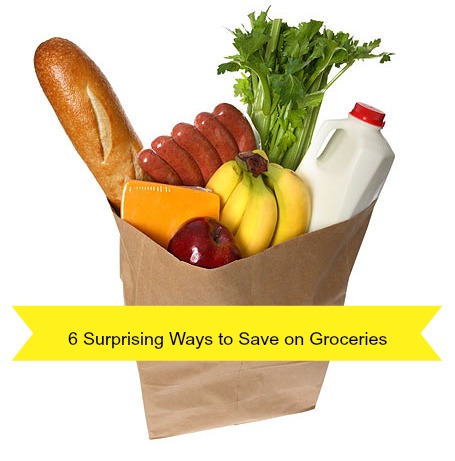 I walked into the grocery store today determined to buy milk, bread and eggs. I walked out of the grocery store with 30 items. Does that sound like you?
This scenario happened to me over a year ago, and I decided to do something about it. I researched online, talked to seasoned friends and came up with six surprising ways to save money in the grocery store. See if my ideas help you cut your grocery bill too.
Cook From Scratch
Processed foods, such as prepared deli meals and canned soups, served as staples in my menu planning. After all, I was a busy mom with multiple schedules to juggle. Easy was good. However, cooking from scratch turned out to be much cheaper.
My seasoned neighbor showed me how to make several soups from scratch, and they were way cheaper than the canned soups I was buying. Plus, they tasted delicious, included fresh ingredients and pleased my whole family.
Since then, I've branched out to make my own meatloaves, mashed potatoes and desserts. Buying ingredients to make my own meals is much cheaper than buying pre-packaged foods, and my grocery budget shows the savings.
Eat Oatmeal
Do your kids gobble up boxes of cold cereal every week? Mine did, and even though I bought generic brands, I still spend dozens of dollars on cereal every month.
My grandma suggested we switch to oatmeal. It's more filling, healthier and cheaper. I buy big containers because they're cheaper than individual packets. Then, we add a touch of salt and customize each bowl. On any given day, we might add cinnamon and apples, peaches and blueberries or peanut butter and chocolate chips to our individual servings.
Clip Coupons
Coupons are for grandmas, right? That's what I thought until I tried it. Just by using the Sunday newspaper inserts, I saved $15 on groceries the first month. From then, I was hooked.
Now, I carry my coupon binder everywhere I go. I look on product boxes, the receipts and online for coupons. A few friends and I even organized a coupon swap every Sunday night. We clip and exchange coupons. It's a blast, and we know our time is making an impact on our budgets.
Stock Up On Sale Items
Grocery store items have a four week sales cycle. Every four weeks, grocery stores place the same items on sale.
That fact made my life so much easier. Instead of buying frozen vegetables until my freezer bursts, I buy only what I need for four weeks. Then, I stock up again. This sales cycle is a great way to save money without sacrificing on all my family's favorite foods.
Use Rain Checks
My mom taught me how to do rain checks at department stores, and the same principle applies at the grocery store. When a sales item flies off the shelf and isn't there when I shop, I can ask for a rain check. Try it and discover how much you'll save!
Skip Junk Food
As chips and sweets lovers, my family went through junk food like it was going out of style. But those grocery items added tons of fat to our grocery bill and our waistlines. By cutting out junk food purchases, including sodas, I save tons of dough. And we receive enough birthday party invites that we don't miss junk food at home – although I can't resist making a cake or batch of cookies every once in awhile.
Staying on budget at the grocery store means I have enough money to cover other household expenses or save for vacation, car repairs or retirement. So, what's your favorite way to save money on groceries?
By Jen T. Today's Free Stuff Contributor