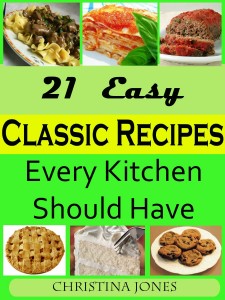 Everyone misses Mom's meatloaf and Grandma's perfect baked white bread. Christina Jones created a 35 page Kindle book to help recreate these delicious classic recipes, and it's FREE today!! Go over to Amazon and grab your free copy of 21 Easy Classic Recipes Every Kitchen Should Have and be ready for warm, yummy Fall cooking.
Don't have a Kindle? You can still read Kindle books on your computer or mobile device by downloading the free Amazon Kindle Reading Apps. You can get the best reading experience on your Android phone or tablet, iPad, iPhone, PC, Mac, BlackBerry, or Windows Phone 7.
Note: Pricing may change daily or more frequently. Please check your cart at checkout to make sure it is still $0.00.