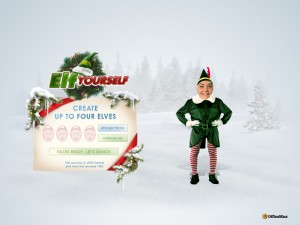 For the upcoming holiday season you can snag a Free Elf Yourself Calendar From Office Max! This can make a fun non-traditional gift for a friend or family member as you can add up to five elves! To get your free calendar, follow the steps below:
Click here to upload your photos and agree to their terms and conditions.
Once the program loads, upload your photos and click the 'next' button.
Click the "Let's Dance" button, and while the video is playing a link in the upper right hand corner of the screen should show up saying "Free Calendar," click on that link.
Wait for your code to be generated. Once it is ready, click the 'OK' button.
Simply print the page out and bring it in to your local Office Max store to receive your free calendar!