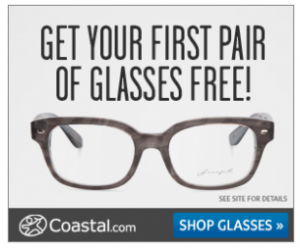 Coastal Contacts has a promotion for a Free Pair of Eye Glasses every few months and it's back AGAIN RIGHT NOW with Promotion Code: FIRSTPAIRFREE. The last time this was available I got a free pair and so did my husband and so did our son! They do charge for shipping but this is still a killer deal if you need eye glasses.
Think about it from Coastal Contact's perspective – if they didn't charge for shipping this would be a much bigger loss of money for their company. They are hoping that by giving away a Free Pair of Glasses you will be hooked on their service, but you don't have to ever buy anything again if you don't want to – just take advantage of this deal while it's available again!
To claim this amazing deal:
1. Click here to visit the site.
2. Use the Promotion Code: FIRSTPAIRFREE, and here is exactly what you are eligible for:
one pair of FREE frames with standard lenses (over 1,000 frames available)
standard 1.5 index lenses
hard case
glasses tool
cleaning cloth
If you are feeling hesitant about whether this deal is legit, here is a video review from someone who has taken advantage of this free offer in the past – good info, check it out:
Here's what Coastal Contacts has to say:
Try it on at home, if it doesn't fit, return shipping is FREE!
We believe you will be so happy with our service that we are giving you your first pair of glasses FREE!
Use code FIRSTPAIRFREE (includes standard lenses)
Shipping charges apply