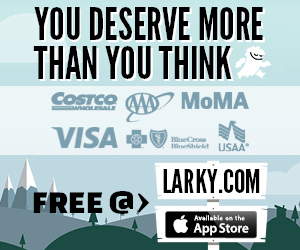 This is a great tip we came across – thanks to Free Stuff Today member Jason P for pointing this one out. Larky app keeps track of the free stuff and discounts you're entitled to!
There are tons of discounts and perks and freebies that you are entitled to if you are a member of any sort of club or group or store. Larky gives you a one-stop perks dashboard on web and mobile that shows you all your perks and discounts across all of your memberships.
The Larky iPhone app sends you free just-in-time reminders when you're near a discount. Walk into a store where you have a discount, and Larky let's you know.
Are you a member of AAA, AARP, USAA, Blue Cross Blue Shield, American Express, Costco, a professional or alumni association, a social or community group, or a union? How about a museum, a fitness club, or a grocery store? Do you have a credit card?
It's a Free App and you don't even need to enter your account numbers to start saving and finding perks and discounts. Get it now!