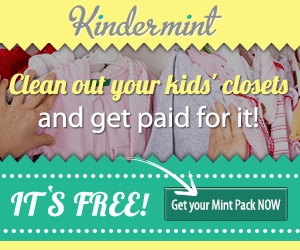 How long have you been putting off the task of cleaning out your kid's closet of all their old clothes?  If you're like me, you've got boxes and boxes of it in the garage.  Kindermint will buy it from you!
Clean out your kid's closets and get paid for it!
Order a free MINT PACK from Kindermint
Stuff the MINT PACK full of kids clothes you wish to sell
Drop the Pre-Paid MINT PACK in the mail (UPS or USPS)
Cash in! Your choice of check or deposit to your PayPal account.
They make it so easy, get started now!