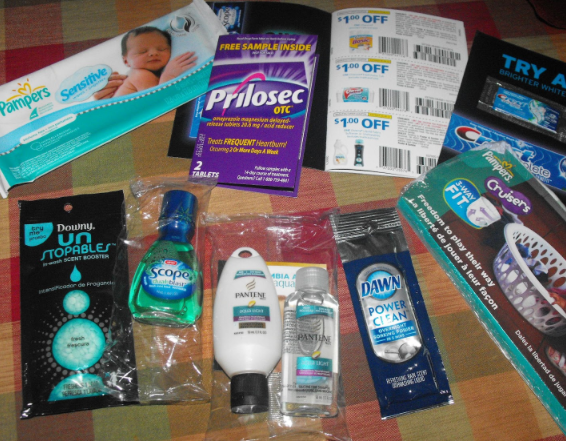 The number one questions we get asked is "how do I get free stuff "or "why am I not getting free stuff?"  The answer is pretty easy and if you start off your freebie hunting quest with just a few little things, you are sure to see success!  Here are some great tips!
Sign up for a free email and phone number through Google.  This way you will not have your main email clogged with spam and newsletters.  You can also get a free Google Voice phone number to use when freebie offers request one.  This helps so you don't get tons of calls but still allows you to qualify for free samples because you have a working phone number (which is sometimes required).
Sign up for lot's and lot's off offers.  We sign up for all the offers we can and donate or gift the product samples we don't need.  This is a great way to insure you get a good variety of product samples.  If you are only signing up for one or two, then you run the risk of getting less freebies!
Expect nothing.  Although we all want free product samples, especially those great brand name samples, the truth is not everyone that signs up will get a sample.  This might be because they have run out, you did not give them the correct information or that there was a problem when you signed up and your information did not get logged.  If you expect nothing then it is like an awesome surprise when you got to the mailbox and find something free!  We do our very best to filter out and post only the best offers we find but the truth is there are many variables that we can't control.
Be patient.  Some samples can take 8 weeks or more to arrive.  Sometimes companies run out of samples and they don't send out more until they get more supply.  Never expect that if you signed up for a sample you will get it in 7-10 business days or something like that.  Samples arrive when samples arrive!
Avoid samples that ask for your credit card.  These are not free!  Also you should never be asked for your Drivers License, Social Security Card/Number or other forms of identification to get a free sample.  We really try to screen these but if one gets in, let us know.  We want to keep you and your information safe!
Still not getting samples?
Are you signing up?  Remember you don't get samples just for clicking on LIKE or SHARE on Facebook.  You have to go in and sign up for the offers each time.  Facebook does not give us access to your address, phone number and so on.
Double check your address before you sign up.
Read the offer.  Sometimes they don't send samples to P.O. boxes or APF postal codes.  They also might not be sending the samples to your specific country or certain counties/states.