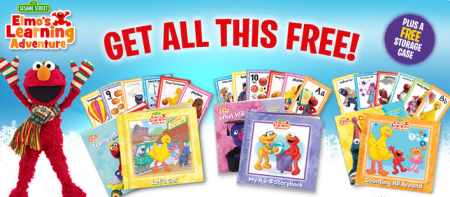 You can snag Elmo's Learning Adventure Gift Pack for Free + $4.99 shipping ($44.75 Value!). Get your child ready for preschool with the help of Elmo's Learning Adventure Intro Kit, which includes 3 hardcover books, 3 activity books, 18 learning adventure cards, and a Free Storage Kit.  Elmo's Learning Adventure will teach your kids about important preschool subjects in a fun and exciting way.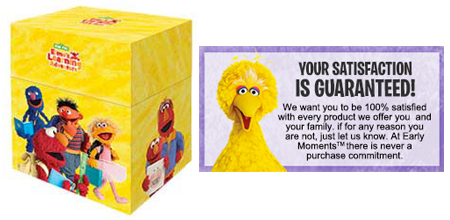 This is a monthly book subscription service for your kids that offers the first box for Free (just pay shipping). You're not under any obligation to make future purchases, so if you'd like, you can simply cancel the subscription and get your Free Learning Kit. This is a very fun way to engage with your little ones, and kids love to receive these kits.
Elmo's Learning Adventure will guide your child through a variety of areas: words, friendship, health & fitness, critical thinking, discovery, numbers, colors & shapes, reading & writing, and everyday routines.

This Elmo's Learning Adventure Package includes:
3 hardcover storybooks with characters from Sesame Street
3 Activity Books full of fun activities
18 Adventure Cards and a flip-top Storage Box
Free Storage Box
Note: Elmo's Learning Adventures is a monthly subscription service, but the site does make it clear that you don't have any obligation to buy any additional books and you can cancel the subscription at any time by calling their customer service phone number. They also have a 100% satisfaction guarantee.