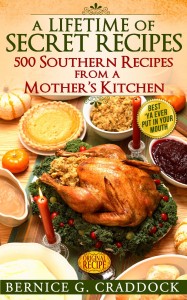 Looking for the perfect cookbook with comfort foods like mom used to make? This FREE Kindle recipe book has 500 recipes to choose from and sure to suit any occasion. A Lifetime Of Secret Recipes: 500 Southern Recipes From A Mother's Kitchen by Bernice Craddock is free right now!
Don't have a Kindle? You can still read Kindle books on your computer or mobile device by downloading the free Amazon Kindle Reading Apps. You can get the best reading experience on your Android phone or tablet, iPad, iPhone, PC, Mac, BlackBerry, or Windows Phone 7.
Note: Pricing may change daily or more frequently. Please check your cart at checkout to make sure it is still $0.00.