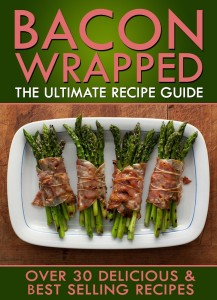 Bacon is the biggest trend in food right now, so it is perfect that this amazing free Kindle book would come out right now. Bacon Wrapped: The Ultimate Recipe Guide – Over 30 Delicious & Best Selling Recipes by Jonathan Doue is 72 pages of bacon wrapped recipes to satisfy any bacon lover!
Don't have a Kindle? You can still read Kindle books on your computer or mobile device by downloading the free Amazon Kindle Reading Apps. You can get the best reading experience on your Android phone or tablet, iPad, iPhone, PC, Mac, BlackBerry, or Windows Phone 7.
Note: Pricing may change daily or more frequently. Please check your cart at checkout to make sure it is still $0.00.