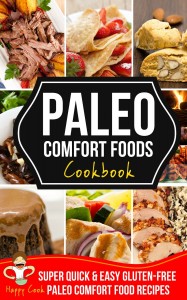 The idea of going on a Paleo "diet" is to give your body what it was made to have: real food, not diet food. This 206 page free Kindle book is filled with the best and most comforting Paleo recipes out there. Be sure to download PALEO COMFORT FOODS Cookbook | Super Quick & Easy, Gluten-Free Paleo Comfort Food Recipes by Happy Cook before it goes back up to its full price of $15.99!
Don't have a Kindle? You can still read Kindle books on your computer or mobile device by downloading the free Amazon Kindle Reading Apps. You can get the best reading experience on your Android phone or tablet, iPad, iPhone, PC, Mac, BlackBerry, or Windows Phone 7.
Note: Pricing may change daily or more frequently. Please check your cart at checkout to make sure it is still $0.00.