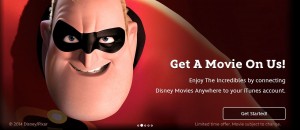 This offer is still available – and worth doing if you haven't seen the movie, watch it free!
You can stream Disney's Pixar Movie The Incredibles for FREE by linking your iTunes account to Disney (free).  Here's the step by step:
Create a free account
At the top click on  "My Collection"
iTunes will launch
A pop-up in Itunes will ask if you want to link your account to Disney, click yes.
Go back to your browser window with Disney and in your account you should have the free movie.
Enjoy!