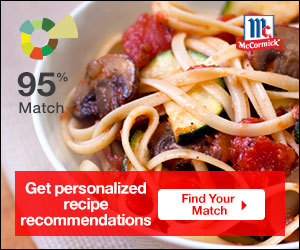 Looking for recipes that fits your family's taste can be challenging, but right now you can have a Free Personalized Recipes from McCormick with FlavorPrint! By simply responding to the quick survey, you will get recommended recipes that you may try for you and your family. This will totally make cooking a lot easier. Follow these steps to get your freebie:
Click the red button "Let's Get Started"
On every food survey question, choose "Like" or "Dislike"
Check the box that says you  Agree with the Terms & Conditions
Click "Save Your Profile"
Finally, you will get your personalized recipes!