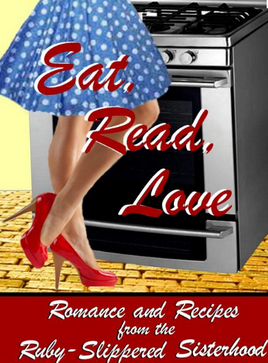 Here is a great little read that includes recipes!  "Eat, Read, Love" is a light little read that includes recipes inspired by the romance novels excerpts in the book.
Here is a little on the book!
They say the way to a man's heart is through his stomach. If so, then you'll need a copy of EAT, READ, LOVE! Because there's no place like the kitchen!
This unique COOKBOOK pairs recipes with EXCERPTS from the romance novels that inspired them. From YA to suspense to historical to contemporary… Join the members of the Ruby-Slippered Sisterhood for some "romancing the stove," and delight in romance and recipes from some of today's hottest rising stars, such as Darynda Jones, Jeannie Lin, Hope Ramsay, Laurie Kellogg, Kim Law, Amanda Brice, Liz Talley, and more!